The Beauty Insider:
the new gothic
When the days get shorter and the temperature begins to dip, we know it's time to switch out our bright summery make-up for something more wintry. But, while a warm berry lip is usually the extent of it, this season we've been inspired to venture into darker and more extreme beauty territory. Here, our resident make-up guru, Selfridges Beauty Personal Shopper Rose Gallagher, reveals five gothic looks to vamp up your winter beauty look – but will you dare to wear it?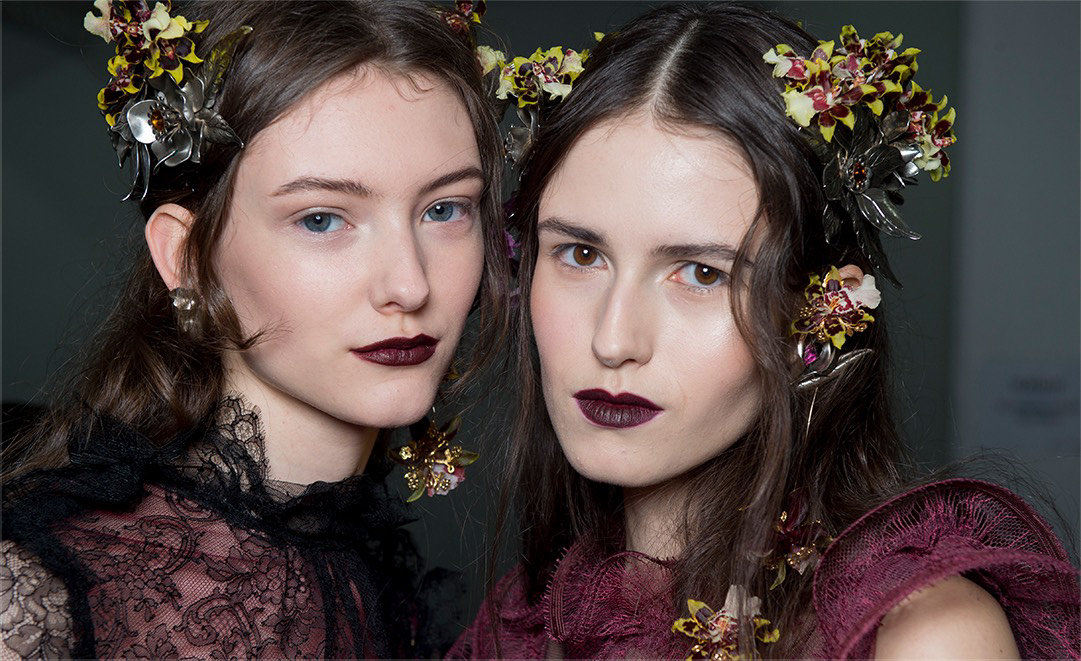 Black cherry lips at Rodarte
The look: black cherry lips

What's that?
Switching to a darker lipstick for winter? Not exactly groundbreaking. But when it's closer to black on the colour spectrum than it is to red? Now you're onto something.
How do I do it?
The key is to keep the rest of your face fresh and light – and let's make no bones about it: this look works best on fair skin. Apply foundation or a BB cream (we love Candleglow by Laura Mercier) for that sheer, luminous contrast, then take a dark lip pencil and work in fine, light strokes, starting from the outer corners of the lips and working your way inwards. Finish with NARS Powermatte Lip Pigment in Paint it Black.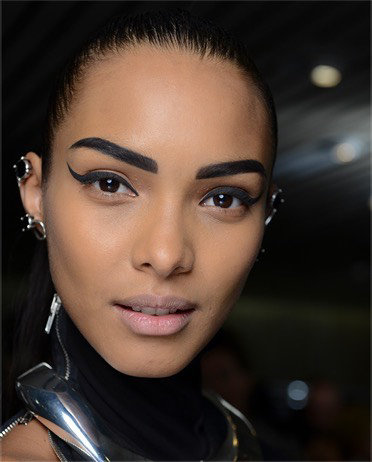 Cat eyes at Jean Paul Gaultier

The look: bewitching cat eyes

What's that?
Like red lips, classic cat eyes will never go out of style, but this season they're more dramatic (in fact, a lot more dramatic) than a simple flick of the wrist. Look to the likes of Jean Paul Gaultier, whose models debuted his catwalk collection from behind nefarious, exaggerated cat eyes.
How do I do it?
As someone who has spent hours perfecting the look, successfully executed cat eyes can feel like a major accomplishment. Here's our step-by-step guide: start from the inner corner of the eye; draw a very fine line along the lash line up to two thirds of the way across the lid. Then, thicken the line by sweeping the pen slightly up and out. Our favourite flick tool is Bobbi Brown's Gel Eyeliner and Brush, but if pencils are more your bag, you can't go wrong with Charlotte Tilbury's Rock 'n' Kohl line.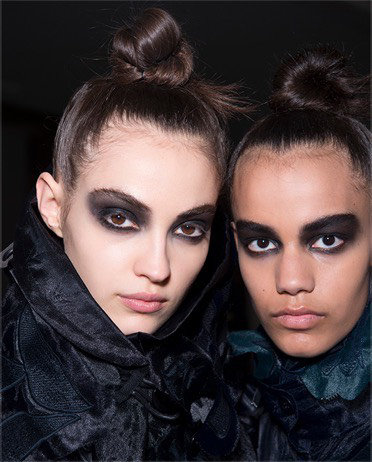 What's that?
Making multiple appearances on the autumn/winter runways, from Victoria Beckham to Sacai, it's safe to say gloss is having a moment – and nowhere more so than on your eyes. A shiny, almost oil-like take on a classic smokey eye, the result is intense and daring – and not for the faint-hearted.
How do I do it?
Start with a thin, lash-defining swipe of black liquid liner, extending the line out and up as much as you like. Next up: dab a black kohl pencil along the eye line and along the bottom lashes, before applying your black eyeshadow from the lid, up to the arch of your brow. Now, add shine with YSL's Eye Gloss Smudger. Dab it in the centre of your lids with the brush, blending it out with your fingers, stopping short of the liner.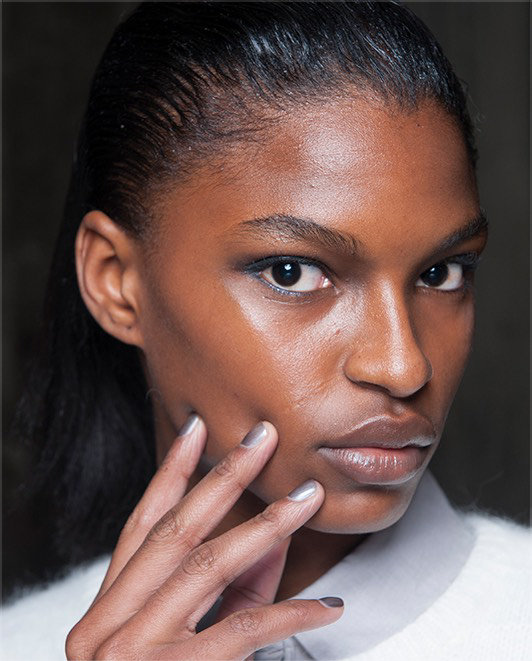 Glowing skin at Richard Nicoll

The look: a lit-from-within glow

What's that?
Strobing, highlighting, illuminating…call it what you like, but a luminous, dewy complexion acts as the perfect foil to gothic looks. Plus, done right, a highlight on the face not only lifts and brightens, but it also improves the overall look of your complexion.
How do I do it?
First: prime your skin (try Charlotte Tilbury's Wonderglow) to ensure a dewy finish, then apply NARS Sheer Glow Foundation for extra luminosity. You can stop there, if you like. But to go full throttle, add a touch of highlighter (you can't get better than Huda's Golden Sands 3D Highlighter Palette) to the inner corners of eyes, cupid's bow and chin.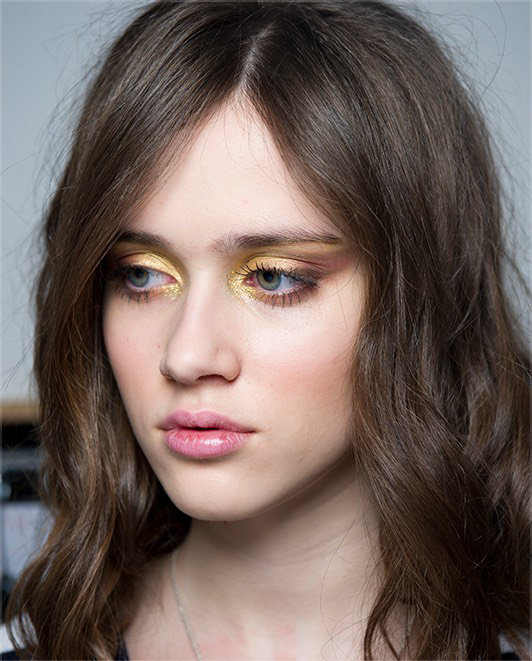 What's that?
Not a remake of the classic Bond film, but rather a shimmery gold pigment that adds sparkle to your eyes. Literally. Ever since Pat McGrath launched a sparkly gold shade as her first make-up product, we've seen gold eyeshadows everywhere from the runway to Instagram. The result? Bright, luminous eyes.
How do I do it?
Rule number one: two golds are better than one. For a subtle shimmer, simply apply a delicate white gold to the inner corners of the eyes with your fingertips. Or for something more intense, add a deeper golden bronze to the outer corners of the eyes. As for the rest of your make-up, keep it simple and fresh (concealer, lip balm, and that's it).