The Beauty Insider: three brilliant looks to try right now
Inspiration can strike in the most unlikely places, as MAC's Director of Make-up Artistry, Terry Barber, can certainly attest. His Instagram feed is a marvellous melange of make-up looks, sat alongside the wide and somewhat madcap range of objects that inspired them. Guinea pig beige? Tick. Bin bag black? Tick. Memorable – and refreshing – among the sea of beauty feeds, it has us hooked. Here, just for us, are Terry's top summer colours – and the curious inspo behind them.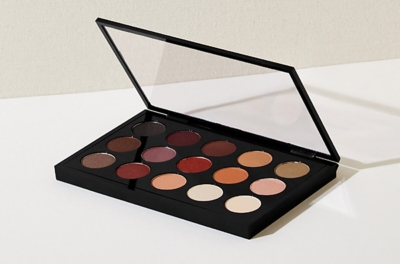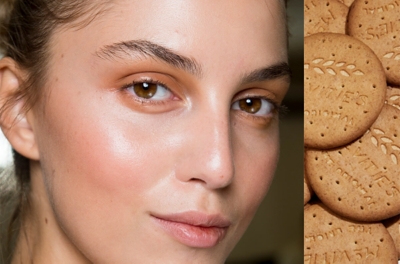 Get inspired by: "Think digestive biscuits, sand, toast, cork, old distressed leather…"
How to wear it: "This is all about warm, tinted, eye-enhancing neutrals. Use an eyeshadow brush to wash product around the eyes, and team with a bronzed cheek and nude lip for classic 70s-style beauty. The Eye See palette [exclusive to Selfridges] will do the trick with its soft, smoky browns – a guaranteed winner when it comes to eye make-up.
Remember: "Don't think structured (or too perfectly applied); this needs to be a warm, hazy wrap of colour."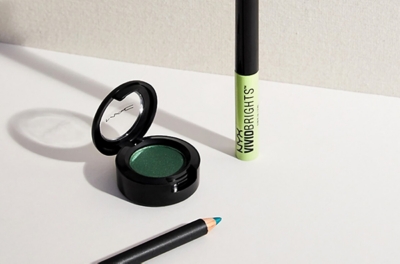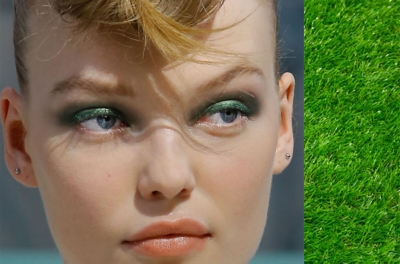 Get inspired by: "Astro turf, limes, peas…"
How to wear it: "For the best results, colour-block over the whole lid, packing your eyeshadow on for the fullest colour pay-off. Use a little bit of concealer over the eyelid to get a really good base for the best colour intensity, then use the flat side of a firm shadow brush to press into the lid, to just above the crease line. Then you can either blur out the edge, or leave it sharp and graphic. With an intense eye like this, keep the rest of the face clean and neutral."
Remember: "There's no wrong green shade, just the wrong intensity. An overly tentative approach to green can wind up looking a bit bruised."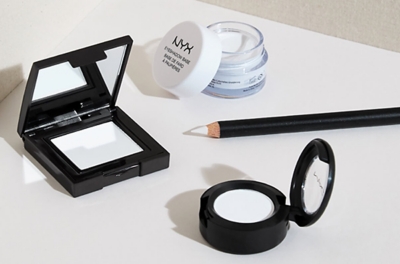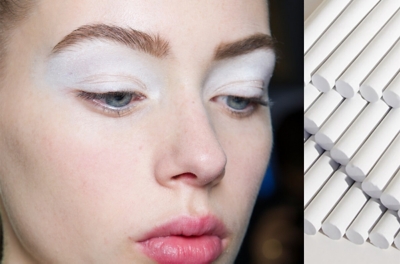 Get inspired by: "Chalk, bone china teacups and...Tipex."
How to wear it: "This is beauty's new monochrome: the make-up equivalent of a fresh white tennis shoe. Wear it one of two ways: either as a chalky whitewash blended across the eyelid, or as a graffiti-like spray-can strip. The key here is to keep it really simple – team with a black mascara and you're done."
Remember: "White in make-up is a surprise, so you don't want to overstate it. Wear with clear luminous skin and a lip balm."
Give Terry's instagram a follow @terrybarberonbeauty
Ask Mr Self Ridges
Our resident 'agony uncle' digs through the Selfridges inspiration archives.
Q. "So, where else can I find this kind of off-beat inspiration?"
A. "Well, you'll be pleased to hear, inspiration doesn't only strike in the midst of a zen-like state of relaxation and mindfulness – it can crop up here, there and anywhere. Just take a look at Selfridges' innovative history as a prime example…
Stiff upper-lip shopping
Inspired by a particularly disastrous day's shopping in London (when Mr Harry Gordon Selfridge was told to "'op it, mate" for simply looking at items, but not purchasing), Mr Selfridge was determined that when he opened a department store, he'd never treat a customer with suspicion – all would be welcome, and you'd be able to browse to your heart's content. It's a notion that changed the shopping game forever.
The sweet smell of success
In the early 20th century, when horses trotted up and down the length of Oxford Street, Central London was, let's just say, a little whiffy. So, to combat the eye-wateringly strong scent of manure wafting through the store, Mr Selfridge made the unorthodox decision of moving the beauty department (previously tucked away out of sight) to the ground floor (a first for any department store), where the perfumes would help to mask the pong. His genius idea was soon copied by every other department store from here to Timbuktu. Our tip? Follow your nose.
Agender agenda
Our brilliant buyers travel the globe in search of the most innovative and interesting new things. One such discovery came about a few years ago when they noticed that, rather than sticking strictly to gender-specific departments, customers were crossing aisles, rejecting the (rather passé) idea that garments must stick to traditional gender norms. This simple observation inspired our ground-breaking campaign, Agender, and a concept space created by Faye Toogood (packed with unisex ready-to-wear designed by fashion legends Ann Demeulemeester, Gareth Pugh and Meadham Kirchhoff), designed to transcend notions of 'his' and 'hers', as well as a glossy campaign video featuring Hari Nef. Remember: it pays to keep your eyes peeled…