Selfridges Loves:
the new-look bags from our new-look Accessories Hall

As we edge closer to the full completion of our extraordinary new Accessories Hall at Selfridges London (the David Chipperfield-designed Duke Street facade is now open), and in the spirit of our Radical Luxury campaign, we've cherry-picked our favourite directional pieces from our one-of-a-kind space. From the styles that push your look into exciting new territories to the pioneering designers whose ideas inspire you as much as their accessories, here's why these progressive bags have captivated our imaginations and our hearts.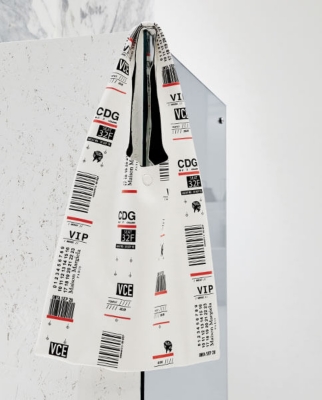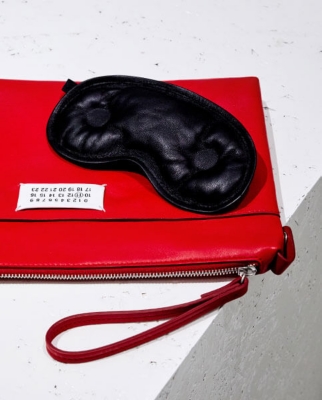 Maison Margiela has long been flying the flag for radical luxury with its discreet use of four white stitches and numbered garment tags in place of overt branding (the significance of 0-23? The circled digit indicates which line the piece corresponds to). And with creative director John Galliano at the helm, the avant-garde brand is taking on a new irreverent style. Case in point: the designer's pop-art twist on air travel, currently taking centre stage in our new Margiela space in the Accessories Hall. Whether your ticket reads economy or first class (one can dream…), these accessories will have you feeling like a VIP well beyond the airport terminal.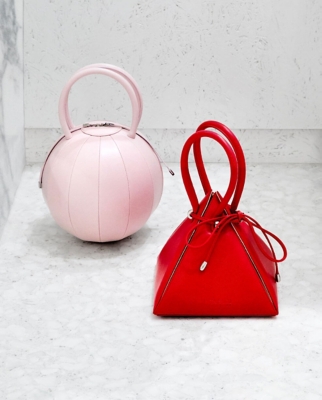 As a fledgling Spanish accessories designer, who better to mine for inspiration than Antoni Gaudi and his famously flamboyant architecture? Modelling her pyramid and sphere-shaped bags on the ornate spires on Gaudi's epic La Sagrada Família in Barcelona, Nita Suri's designer Montse Frexies aptly explains, "these are not your typical handbags; they are art". Hear, hear.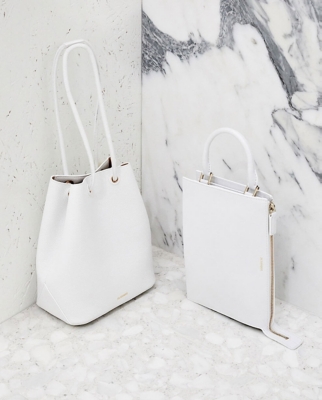 With a season of electric-hued florals and eye-popping prints ahead of us, a crisp white bag is the fashion equivalent of a serene white wall behind a vibrant Monet masterpiece. And who else nails subversively discreet luxury better than the great German minimalist Jil Sander? Championing the purist power of solid white – a charming antithesis to the ubiquitous and homogenous black work bag – it may be a leather cleaner's nightmare but as far as statements go, not much is bolder than a bag that merits its own mode of private transport.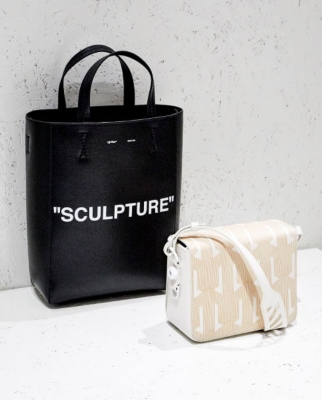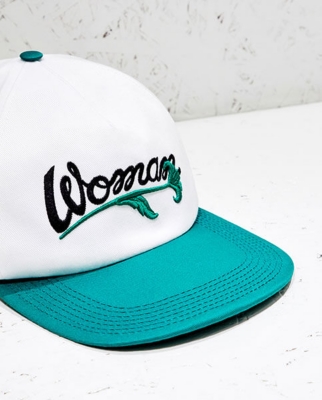 For Off-White's upcoming Pre-Fall collection (launching mid-May at Selfridges), Virgil Abloh took a literal approach to branding his pieces, with "LITTLE BLACK DRESS", "DENIM" and "FOR WALKING" (on a pair of cowboy boots). So what do we make of adorning his tote bag with the word "SCULPTURE"? Well, this leather structure is a modern-day form of architecture so robust and defined it could sit comfortably alongside a Moore or Hepworth, while the flower-embroidered 'Woman' baseball cap is the designer's take on modern femininity. Fashion that makes you sit up and take notice and put a smile on your face? We salute you, Virgil.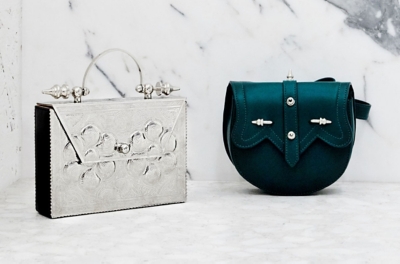 Designed in Cairo by siblings Aya and Mounaz Abdelraouf (Okhtein means 'sisters' in Arabic, BTW), the duo champion Egyptian artisanship, taking inspiration from their country's traditional architecture and working with local artisans to create their plinth-worthy, handmade designs. The sisters have also collaborated with a number of Egyptian organisations to support skilled female workers from economically unstable backgrounds. "Okhtein are really making a name for themselves with their distinctive, dainty bags," says Designer Accessories Buyer Sarah Cartwright. "The minaudière shapes, ornate metalwork and spike hardware make them instantly recognisable." And with high-profile fans like Beyoncé and Gigi Hadid, we're about to see a lot more from this pair. Bravo.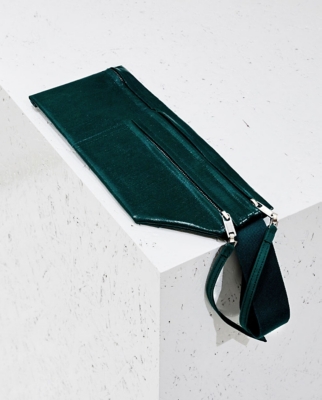 While we eagerly await season two of The Handmaid's Tale (vive la révolution!), Rick Owens is feeding our appetite for dystopian style with his latest collection of accessories. Or should we say, Rick's utopian take on dystopia (or in his own words, his "brutalist aspirational aesthetic"). In the finale to his spring/summer 2018 runway show, he added hope to his post-apocalyptic webbed outfits with oversized bum bags strapped around the model's bodies, which he termed 'fertility bags' to represent rebirth and optimism.
For the exhibitionist who wants the world to know the answer to 'what's in your bag?', Elena Ghisellini's PVC satchel is the ultimate way to show you've got nothing to hide. A new addition to the Selfridges fold this season, the Italian designer was formerly the Head Accessory Designer at Givenchy and Emilio Pucci. "I love Eleni's play on materials," says Designer Accessories Buyer Sarah Cartwright, "her contrast of ladylike shapes with chunky chain handles strikes the perfect balance." And if the thought of sharing the inner contents of your handbag fills you with horror (the tatty receipts, the half-pack of chewing gum, the leaky pen…), fear not: the style includes a removable leather bag to help you maintain an air of mystery.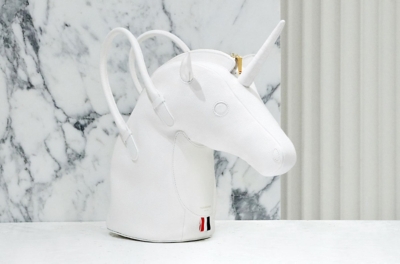 Thought we'd reached peak unicorn? Think again. Thom Browne has elevated the mythical creature to the world of high fashion, closing his spring/summer 2018 runway show with a life-size unicorn puppet and adding a majestic unicorn to his kingdom of animal-shaped bags – joining the penguins, turtles and sausage dogs (modelled after Browne's own pooch, Hector). How to wear it? Counterbalance the whimsy with straight-talking tailoring and no-fuss chunky sandals.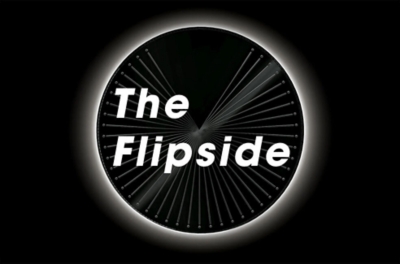 The Flipside: a multi-sensory exhibition

As part of our Radical Luxury campaign, we invite you to experience The Flipside at Selfridges London. Journey through a vast one-of-a-kind space where the world's most forward-thinking brands and creative minds intersect with radical ideas. Entrance is free and open to all.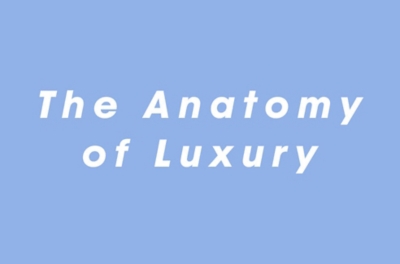 The Anatomy of Luxury at The Selfridges Corner Shop

Every week a new brand. Every week a new story. Enter world of The Anatomy of Luxury at Selfridges London, with archive pieces, unexpected collaborations, exclusive items and limited-edition product drops from some of the world's most radical designers including Maison Margiela.
Alongside the opening of the new David Chipperfield-designed Duke Street entrance, we have unveiled a new art installation by British sculptor Holly Hendry. The first in a series for The Art Block (a permanent artistic venture curated by Selfridges in partnership with Helen Pheby, Senior Curator at Yorkshire Sculpture Park), the space will update with a new artwork every six months. Watch this space.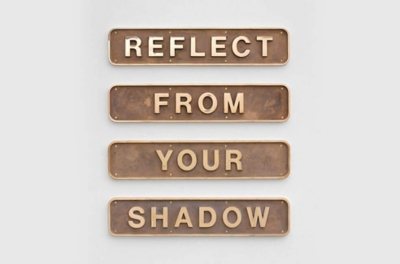 When the new TfL-run Elizabeth line launches at Bond Street station in December, keep an eye out for a new large-scale art installation by leading British artist Darren Almond, commissioned by Selfridges. Designed to act as a gateway to the West End and our flagship London store, it's sure to sweeten your daily commute.