Selfridges Loves: Your warm-weather wardrobe's right here

How are you spending your summer? City break somewhere sweltering? Or have you opted to give the getaway a miss for a staycation instead? (Followed by a swift deletion of Instagram to avoid beachy-holiday FOMO, of course.) Well, whatever you're up to, we've got some top-notch, meltingly hot-weather-appropriate outfits (courtesy of our fresh, new pre-collections drop) for you to enjoy while basking in the sunshine, wherever that may be.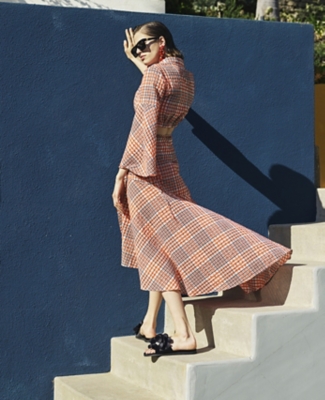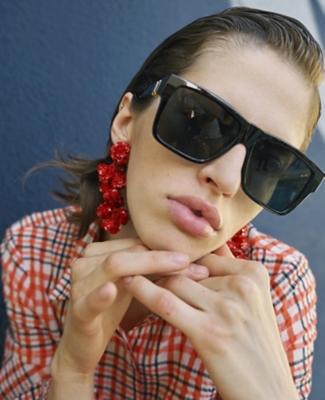 "Oh, this? It's just something I threw on…"
We've been waxing lyrical about the brilliance of patterned co-ords for a while – and will continue to do so for eternity (or at least until clothing as we know it is rendered useless due to a future need for spacesuits) – for three good reasons. One: they're savvy shopping in action – worn together or separately, you've upped your wardrobe options three-fold in one fell swoop. Two: a good print never fails to make us a bit happier, and this particular red check by Ganni is quite dashing, if we do say so ourselves. And three: wearing this set in the sunshine makes you one of those effortlessly put-together women you see out and about, who have hardly deigned to give their perfectly orchestrated outfit a second thought. Or you'll be dressed like one, at least.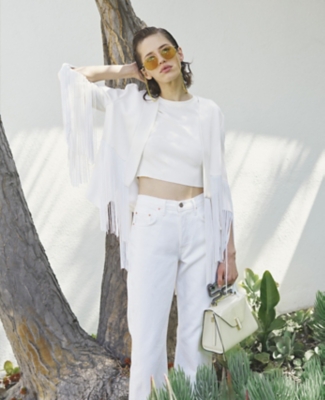 "If the dress code says 'no denim', I'm not coming"

So, what do you wear when you're not too keen on 'summer' dressing? If your idea of hot-weather styling is pushing up the sleeves of your leather jacket (you're not alone, we promise), light-wash denim's the way to go. Warm weather and light denim are basically made for each other, and when you can get your hands on all the great iterations of the stuff in our coffers (aka the Denim Studio), you're onto a winner. The best thing about light-wash denim is that it doesn't feel heavy – even the rigid, 'proper' denim styles that we're currently eyeing up – which makes it ideal for when it's blazing hot on the Underground but you're not quite ready to get your legs out yet.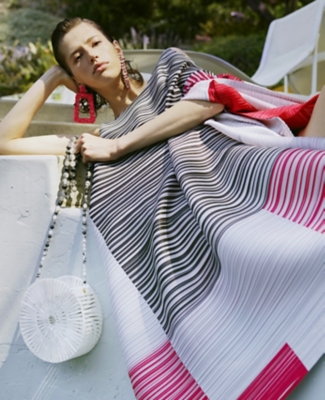 "I'm a great multi-tasker; I can look cool, and stay cool, simultaneously"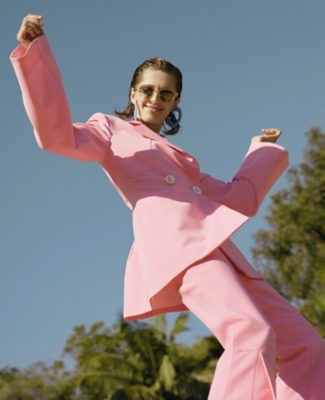 "Boardroom Barbie, reporting to the dance floor"

We've found it, folks: the tangible definition of the phrase 'work hard, play hard' right here in this bubble-gum pink suit by Ellery. A summery two-piece like this one requires a bit of an attitude adjustment, though – if you're hoping to slide on into the party unnoticed, you've got another thing coming. However, if you're there to dominate the dance floor and show your ex how little you care about them being there, then this one's for you. Pairs brilliantly with exaggerated dance moves and a Martini in hand.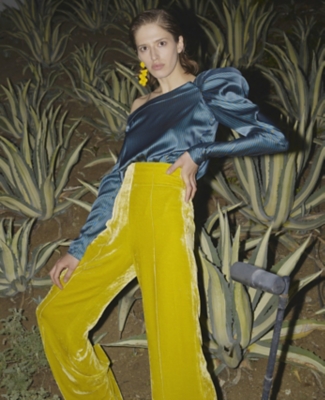 "As the saying goes, 'Go bright, or go home'"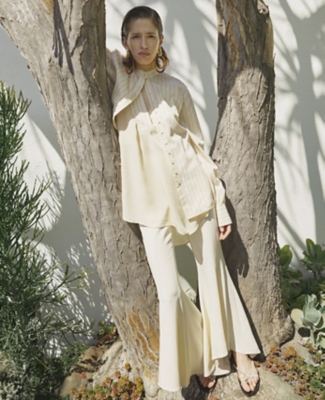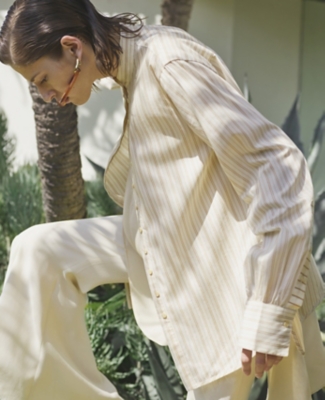 "Hang on, let me climb this tree – it'll look great on Instagram"
'Light layers' – the maxim of Mums and Dads across the world when asked what to wear when the upcoming weather is a question mark, and we're inclined to agree. Your floaty sundress may well be a godsend in the heat, but come nightfall when the temperature has dipped, it'll render you all chilly and goose-bumpy, killing flat any enthusiasm for an alfresco bar outing. That's why we're going for a neat little layering combo for evenings this summer; lightweight kick-flared trousers, a cami and overshirt do the job nicely, and look especially good in a single-toned colour palette. So… drinks tonight?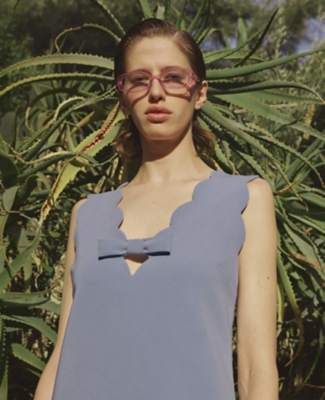 "I have such a craving for Parma Violets when I wear this dress…"

According to those with their ears to the ground, purple is the next big thing in colour, knocking millennial pink right off its perch (it was Pantone's colour of 2018, after all). Get ahead of the curve and wear it now (and master that 'yes, I am such a trend-setter' face) with this brilliant little lavender dress from Miu Miu. And fear not, dear millennials: your current favoured shade hasn't fallen by the wayside just yet – baby-pink accessories go brilliantly with lilac. Just see above.