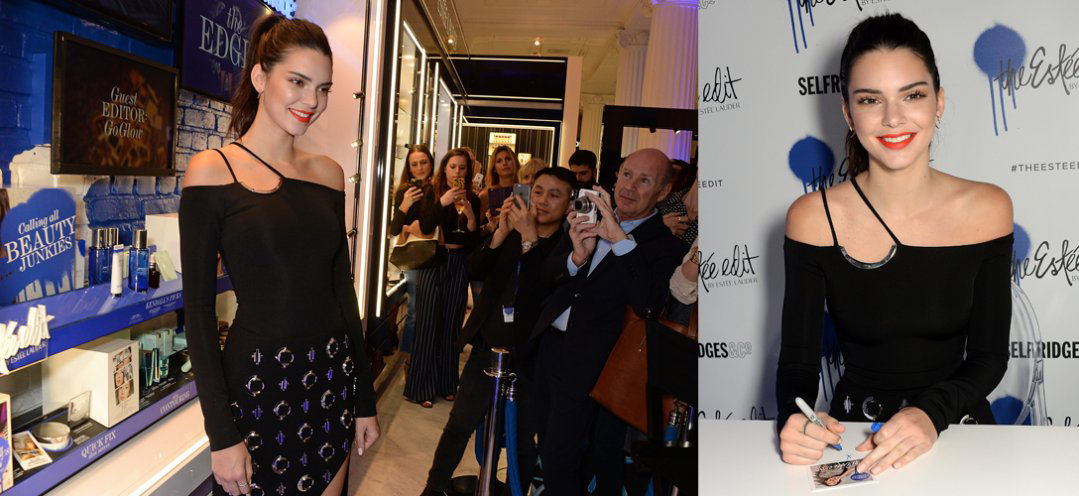 Selfridges meets: Kendall Jenner
We caught up with the supermodel and social media superstar (57.9 million Instagram followers and counting) on her recent visit to Selfridges to launch The Estée Edit, to get the inside scoop on her personal beauty secrets.
Can you remember when you first got in to make-up? Did you play dress-up with your mother's things when you were young?
Definitely. Kylie, my little sister, and I were like always trying on my mom's clothes and walking around in her shoes and trying on her lipstick…and even borrowing my older sisters' stuff too, because they lived with us at that point. We were always messing around in their stuff. My sisters hated us for it but my mom loved it. Growing up in our family, let's just say we had a lot of opportunities to play dress up!
Did your sisters give you any make-up lessons?
We never really sat down and learned about it formally like that. My sisters, their dad sent them to make-up school. He made them go to make-up school to learn properly because he didn't want his daughters looking, like, bad. They would definitely do our make-up when we were young. I never got to go to beauty school. At the same time I had a phase when I was very tomboy. I was in to the whole make-up thing but at the same time I was off doing my sports and riding my horses and doing that kind of stuff. So I was in and out of the whole girly beauty thing.
Has it been fun being involved in The The Estée Edit and playing around with make-up again?
Totally. This is definitely Estée Lauder's edgier side, more fun. You can really mess around with it as there are so many colours. It's been great meeting the fans through The Estée Edit, and yeah, I'm like travelling the world with them. Working with Irene (Irene Kim, beauty blogger and Kendall's co-editor of the range) has been great too. She's super-fun. It's been really cool.
How long does it take you to do your own make-up on an off-duty day?
Five to ten minutes tops! I'm very like laid back. I just do a light, easy foundation or a tinted moisturiser and then mascara and that's it. Maybe a little bit of bronzer and I'm done. And I love having a day when I don't wear any make-up for sure. Like airing it all out! I'm always working and always wearing make-up so it's nice to have a day without it sometimes.
And what about getting ready for an event?
That definitely takes more planning. It depends on what I'm going to and where I am the world and if I have access to all the regular people I use. I still really love the dressing up bit. It's actually more fun to dress up for events now; I'm always dressed up by other people on set and at shows and stuff, so it gives me the opportunity to pick my own look and, like, do what I want as I can't always do that.
Have you learned lots of things working with professionals on set?
I think subconsciously I've pick things up from shoots and backstage at shows. I don't think I realise it when it's happening, but then in the last couple of years my skills at doing my own make-up have become much better. I think you just learn what you like because you try out so many different make-up looks. You learn what works best on your face. And I'm lucky, I get to work with some of the best make-up artists in the world.
Have you got any beauty tips you've picked up that you are happy to share?
I don't know if it is a tip, because I'm not really a tip-savvy person, but I would say that bringing out someone's individual beauty, enhancing someone's natural look just by putting on some foundation and maybe a little bit of bronzer to give a natural glow is the best thing. I think that natural glow looks the best on any girl.
You are travelling all the time - how do you keep your skin looking so great?
Lots and lots of water. That's basically all I do is drink water. I get on a plane and think I've got to drink a bottle of water, but then you want to go to sleep but then you have to like pee four times during the flight because you've drunk all this water.
Are you really good at keeping up your skincare routine – do you always take off all you make-up, even after a party?
Of course, of course. I'm very like weird about that. It's like one of my things. Like everyone who knows me knows I have to get my make-up off. I have to wash my face before I go to bed. It's like a huge thing of mine. Am I shouting? I don't want to scare you or anything – but that's not a question you should ever ask me! (Laughs)
What is the one piece of beauty advice you would pass on to your fans?
It is all about having fun with make-up. Especially with The Estée Edit. I think it's all about creating a 'pop' with lipstick and they have some really great colours. You can even create your own with the 'Lip flip' shade transformer. Yeah, have fun and don't be afraid to experiment.