Housed in the recently expanded men's designer department at Selfridges Oxford Street London on 1, our men's personal shopping service is tailored to meet your individual needs.
Led by Personal Shopping Manager Lampros Tsitras, this exclusive service allows you to sit back and relax in the comfort of our luxurious private shopping suite, while our team of menswear style experts use their knowledge to select a carefully curated edit of Selfridges' best pieces suited to your look and lifestyle.
The team consists of three multilingual consultants, each with their own area of expertise, from casual to formalwear. So whether you require a designer suit, a luxury watch or a complete wardrobe overhaul, we will ensure you are paired with the best consultant for your needs.
Designed by Architect Alex Cochrane, the personal shopping space boasts the contemporary and relaxed ambience of a gentleman's club filled with art, including a piece by Damien Hirst.
It comprises three elegant private suites – the blue, red and green suites – a reception area and a salon complete with a floor-to-ceiling library, designed to feel like a home-away-from-home in the heart of London's West End.
Women's Personal Shopping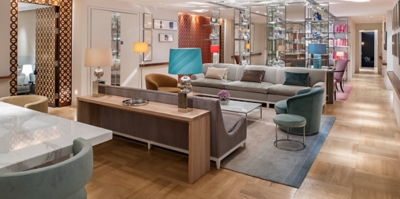 Located in Selfridges Oxford Street London on 2, our personal shopping service provides a discreet and intimate experience for both new and regular clients.
Catering to our most discerning customers, each two-hour appointment with one of our talented style consultants is entirely bespoke – designed to meet your individual needs.
Sit back and relax in the comfort of our luxurious private shopping area, while our team of consultants use their in-depth knowledge to select a carefully curated edit of products, unique to you.
Led by Client Development Manager James Servini, the team of personal shoppers are a group of multilingual style experts aged between 25 and 60 – each specialising in different areas and categories of the store. So whether you're in need of a couture gown, an outfit for a client dinner or looking for a limited edition watch, you will always be matched to the most appropriate consultant.
Designed by London Architect Tom Bartlett, the personal shopping area consists of inviting dressing rooms and suites, a stylish drawing room, bar and library, with a focus on privacy, exclusivity and comfort.
At the heart of the space lies the living room, incorporating the marble bar, the drawing room and the reception area. Cast in elegant shades of cream and grey, the drawing room is inspired by the all-white styling of London Interior Designer Syrie Maugham.
In an homage to female cultural icons of the 20th century, each of the nine suites has its own muse and visual theme. The Grace Jones suite features a monochrome colour palette with minimalist, 1980s-inspired interiors, while a more feminine colour scheme makes the Tamara de Lempicka dressing room a relaxing haven, channelling the glamour of the Polish 1920s art deco painter.