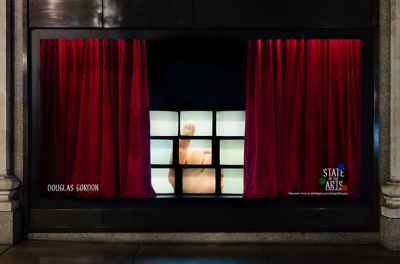 Renowned for his film, photography, sculpture and text installations that explore themes of memory and human experience, Douglas Gordon is one of the most well-regarded artists of his generation. As part of the Crossrail programme for the new entrance at Tottenham Court Road, Gordon has created a film, 'Non Stop', inspired by what lies behind the closed doors of Soho.
"I used to walk around Soho as a student only looking at things from the outside because I was too nervous to go in… I always wanted to see it - but I never got in." Douglas Gordon
For his Selfridges installation, one of Gordon's most unsettling film works, 'Scratch Hither' (2002), is shown on nine stacked TV monitors. The screens have been placed behind slightly parted velvet curtains, suggesting the idea of peeping through someone's window into a private room or secret space (akin to the artist's experience of Soho).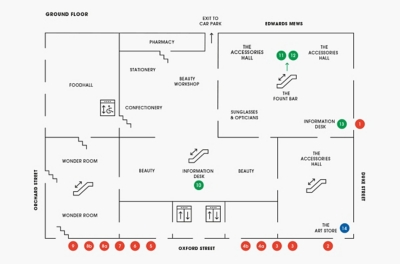 1 - Yayoi Kusama
2 - Spencer Finch
3 - Richard Wright
4a - Douglas Gordon
4b - Douglas Gordon
5 - Simon Pertion
6 - Chantal Joffe
7 - Michal Rovner
8a - Darren Almond
8b - Darren Almond
9 - Conrad Shawcross
10 - Eduardo Paolozzi
11 - Matthew Darbyshire
12 - Rebecca Ackroyd
13 - Art Block
14 - The Art Store