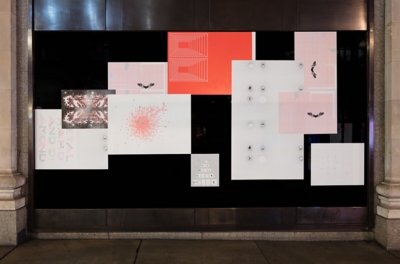 Through his intricate drawing and painting methods, Wright creates complex works in oft-overlooked architectural spaces, working predominantly with paint and gold leaf directly on walls, ceilings and windows. In his work for the Elizabeth Line Eastern ticket hall at Tottenham Court Road station, Wright has mapped out an intricate geometric system in hand-gilded gold leaf to create different spatial illusions.
"Gold has this immortality, a quality of being absent and present at the same time. It appears and disappears, it is almost not there at all." Richard Wright
For the Selfridges windows, Wright has fly-posted silkscreen prints in repetitions and sequences that scatter across the glass. Produced by the artist between 2000 and 2002, the silkscreens will be open to the elements, heightening the temporary nature of Wright's works.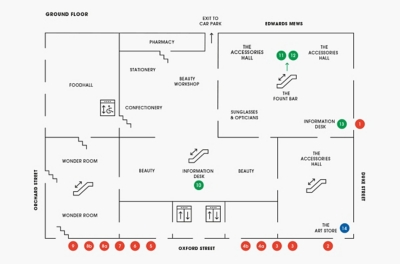 1 - Yayoi Kusama
2 - Spencer Finch
3 - Richard Wright
4a - Douglas Gordon
4b - Douglas Gordon
5 - Simon Pertion
6 - Chantal Joffe
7 - Michal Rovner
8a - Darren Almond
8b - Darren Almond
9 - Conrad Shawcross
10 - Eduardo Paolozzi
11 - Matthew Darbyshire
12 - Rebecca Ackroyd
13 - Art Block
14 - The Art Store