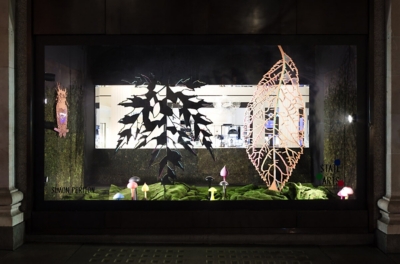 Known for his intricate doily-like creations, Simon Periton's work encompasses painting, sculpture and installation, with influences as diverse as punk, cinema, and the occult. In his work for the new Crossrail Western and Eastern ticket halls in Farringdon station, he uses intricate patterns that cascade down the walls and glazing of the ticket halls, echoing the dynamism of the busy station.
"The work will be experienced in glimpses, and that's where a public artwork is different to putting a piece in a gallery… it will be observed for smaller amounts of time but more regularly, so it's a completely different viewing experience." Simon Periton
Periton's work for Selfridges is inspired by the poem 'The Masque of Anarchy' by Percy Bysshe Shelley (1819). The window features two large leaf sculptures ('Mosstrooper' and 'Outdoor Miner') gazing silently out at the viewer from a moss-laden forest; a polished copper owl ('The Lookout') watches from the side lines while a series of painted glass upstarts ('Sir Punks') sprout up from the ground.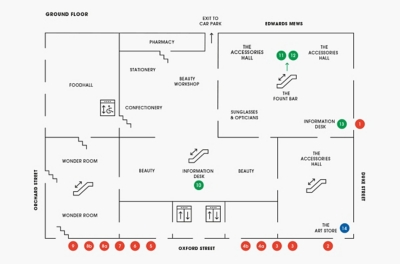 1 - Yayoi Kusama
2 - Spencer Finch
3 - Richard Wright
4a - Douglas Gordon
4b - Douglas Gordon
5 - Simon Pertion
6 - Chantal Joffe
7 - Michal Rovner
8a - Darren Almond
8b - Darren Almond
9 - Conrad Shawcross
10 - Eduardo Paolozzi
11 - Matthew Darbyshire
12 - Rebecca Ackroyd
13 - Art Block
14 - The Art Store